Conclusion: "I think it's very positive… a system that will help you to get there faster and more efficiently. Whenever you want to "zone out", you just get into the chair, plug yourself "In" and you're "Out"… and in that meditative state." Tan Le, President and co-founder Emotiv
Ojai, CA- MultiSensory Systems of Ojai, California, an integrator of multisensory systems, was one of six advanced technology companies selected by Google to exhibit at their recent Scottsdale, Arizona Zeitgeist '10 Conference. This year's theme… "MindShift: How shifts in thinking have rippled through all aspects of the world."
Multisensory Systems demonstrated their patented sensory chair prototype that combines 3-D sound, scent and vibration to calm or inspire a person in a very short time. The company has developed its proprietary technology over the past 14 years, under the direction of Co-Founder and Chief Technology Officer, Doug Nelson. According to Nelson, "We are very excited about the potential of our system to dramatically reduce stress which, in our current economic and political environment, is an important missing link. Many companies have developed elements of our system as stand-alone technologies but, so far as we know, none has developed a sophisticated system that integrates these elements digitally, and as elegantly as we have."
During the conference, Doug and Multisensory Systems Co-Founder Zubin Levy and met fellow exhibitor & conference speaker Tan Le, the president and co-founder of Emotiv and her associate Dr Geoffrey Mackellar, CTO, leaders in neurofeedback devices. Their state-of-the-art Neuroheadset converts brain activity into visual displays, easily interpreted by healing professionals or computer software programs.
Doug created the multisensory devices and was aware that Emotiv's Neuroheadset could be a direct fit. On Day 2 of the event, Tan Le was prepared to give it a try.
Click to view enlarged slideshow
Zubin describes an event that took place on the last day of the conference. "Tan Le asked her biz partner and CTO to put on his Neuroheadset and recline into our sensory chair and sample our system and demonstration program. At the start of the program, Emotiv's display translated his brain's activity into red and orange colors, revealing high stress levels and an overactive brain. In minutes, colors had turned to blue, indicating a deep meditative state.
According to Tan "When Geoff was in the chair and I was observing his brain state, he was able to quickly move into a very, very relaxed state, confirmed by the kind of activity we were seeing in his brain. We were seeing a high amount of Delta and Theta activity, some bursts of Alpha activity as he was just moving into a relaxed state, which is very consistent with what you would be able to achieve if you were meditating. Occasionally we will see bursts of imagination… or creativity… or daydreaming… absolutely no activity in Beta. It was very interesting for us to observe the changes that were going on."
"It means that it's working… your system is working to put him into a state of relaxation"
Here's some info from Emotiv describing their Headset, graphic software and meaning of brain frequency states:
"Based on the latest developments in neuro-technology, Emotiv has developed a revolutionary new personal interface for human computer interaction. The Emotiv EPOC is a high resolution, neuro-signal acquisition and processing wireless Neuroheadset. It uses a set of sensors to tune into electric signals produced by the brain to detect user thoughts, feelings and expressions and connects wirelessly to most PCs."

Emotiv EPOC Brain Activity Map

This application displays a real-time map of your mental activity in four significant brainwave frequency bands (Delta, Theta, Alpha, and Beta).

Delta (0.5-4Hz) – indicating deep sleep, restfulness, and conversely excitement or agitation when delta waves are suppressed

Theta (4-8Hz) – indicating deep meditative states, daydreaming and automatic tasks

Alpha (8-15Hz) – indicating relaxed alertness, restful and meditative states

Beta (15-30Hz) – indicating wakefulness, alertness, mental engagement and conscious processing of information.
Of course, the neuroheadset proves that our multisensory system, with appropriate programming, is capable of putting an individual into an incredibly deep state for a considerable length of time. The Emotiv Neuroheadset will become a very useful tool for developing multisensory programs, and in the near future… as our patent describes, could be used to control or help move a person through personal multisensory worlds.
"It's not just the visual display that is important…" Doug said " but rather the simplified EEG Neuroheadset which with appropriate software can analyze individuals and provide information to our controllers; creating personalized multisensory journeys. This is part of our of our original patent."
Link to related post:  Control of multisensory experiences using biofeedback.
Zeitgeist 2010 – Post Show Notes!
Just back, regrouping and re-assembling our multisensory systems in our Ojai studio following US Google Zeitgeist '10 exhibition this week in Scottsdale, AZ.  The event took place on September 12-14, 2010 at the Montelucia Spa and Resort. This is  a twice-a-year event for Google; one conference in the USA and another in the European Union.
Significance of being selected
As only one of six companies in the world invited by Google to demonstrate "MindShifting" technologies at this year's US Zeitgeist conference, we were thrilled to hook-up with Emotiv (another selected presenter) whose Neuroheadset technology proved the effectiveness of our multisensory experience at the event.
With eyes closed, guests had the opportunity to journey… relaxed within our multisensory chair, complete with scents from nature (digitally blended), calming sounds (3-D of course), and vibroacoustic massage (to music), designed to put one quickly into Alpha, Theta, and Delta states…  for positive change.
Mindshift Zone:  The Exhibit Space
The exhibit space was in the foyer just outside of the  main conference ballroom at the Montelucia Spa and Resort.
From Zeitgeist Overview:
"Mindshifting activities stretch beyond the main session room into the foyer. Here you will find exciting new technologies including augmented reality and new ways to "train your brain…"
Despite loud noise of crowds and video of conference goings on, our closed headphone system was still able to bring a few moments of tranquility to guests within this vibrant space.
Backdrops for all exhibits were illustrated on-site by the clever and very talented artist Peter Durand, co-founder of Alphachimp Studio Inc.  Peter's work from the Google event can be viewed here:   Visions of the Future from Google Zeitgeist 2010
Our Exhibit
The Multisensory chair with pre-programmed aromaComposer diffusion and blending system was transported and assembled in Scottsdale for the conference. In this case, scent was provided by our tried-and-true second- generation aromaComposer system.
This system integrates time coordinated "olfactory experience" with other senses including strategically placed multi-channel tactile vibroacoustic devices and incredible three-dimensional sound.
Present, for display only, was our third-generation aromaComposer scent device (capable of projecting a narrow scent beam a distance of 8-12 feet)
Not present, our forth-generation miniature aromaComposer prototype, currently being fabricated at our Ojai, California studio, and our SMART sensor controlled scent-beaming device.
The aromaComposer is capable of blending thousand of different scents in real-time from a handful of essential oils, using a computer interface… with or without biofeedback controllers.  Scent formulations and multisensory programs can be prerecorded, stored and played back on many media devices,  or shared remotely over the internet.
Google's Zeitgeist Conference
US Zeitgeist '10: Paradise Valley, AZ
September 12-14, 2010
This Year's Theme: Mindshift
Quotes from Zeitgeist '10 Program Guide
"At Zeitgeist 2010, we have assembled an extraordinary group of individuals, including the best minds and greatest leaders from a range of arenas. Bringing together such an unsurpassed group is more important now than ever. Due to the dramatic changes our world has recently experienced, a shift in our collective mindset is required to spark new thinking about our global village. This need for fresh perspectives led directly to our theme for Zeitgeist '10: "Mindshift." "

By Nikesh Arora and Dennis Woodside
Quote from Zeitgeist Introduction:
"This year we will take a look at how shifts in thinking have rippled through all aspects of the world."
Videos of the many speakers at the event can be found here:
Zeitgeist – Great Minds of Our Time
This is our new site and is in development… as we speak. Please go to these alternate sites for further information regarding our multisensory chair and aroma systems:
AromaComposer and multisensory archived site
The Walk – A Multisensory Experience
Thanx 2 All,
RDN
Inspiration
In the early 1960′s, … my father took my brothers and myself to the Santa Monica Pier, where I experienced an expensive experimental arcade game machine called "Sensorama", now acknowledged as one of the first virtual reality systems. I experienced true multisensory… a 3-D film, stereo sound, vibration, wind and different aromas in one box. Created by Mort Heilig and patented in 1962. Spent all my change that day to run through his shows. As I remember, one was an over the sand dunes experience in a dune buggy… another included a bicycle, downhill motion, and included a wink from a pretty girl in passing. It sure beat my incense, strobe light and sync-sound light box projects of the 60′s.
Themed Design
In 1984, while working on the Baltimore Power Plant project for Six Flags, I experienced the "Sensorium Theater", which I was not the designer of, but did see the processes used intimately, and the failures too, which taught me much about the benefits and deficits of such multisensory systems, especially the scent system with its chemical wax like pellets.
http://alphasensory.com/wordpress/?p=50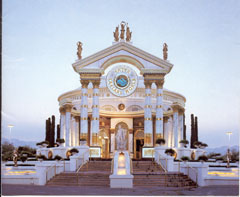 In 1985, as Project Designer, I proposed to Caesars Palace that we use scent to stimulate/excite their patrons as they entered the casino… through this ancient Rotunda… via a moving sidewalk. It was a pretty far out concept … to all involved. Got cut from budget. Capable systems at this time were primitive, lacking or unavailable. The concept of scent marketing is not new to me. alphasensory.com/Portfolio/Caesars/ProjectPage.html (see linked document ProjectScope.html)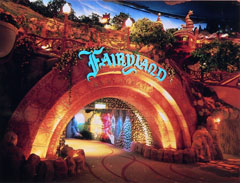 A few years later, in 1987 proposed multiple scented environments within the Fairyland Restaurant/Theater due to be created at Sanrio's Puroland. By 1989, the idea of… and use of environmental fragrancing was going full bore while I lived and worked in Japan. I advocated it on various retail-marketing projects, such as the Sanrio Gallery, and have been a big supporter of scent environmental marketing, but again technology was primitive.
Our Patents and Prototypes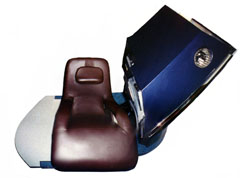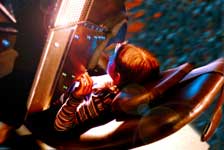 In the late 90′s we were still unable to find a good multi-scent diffuser for our Multisensory Stimulation System (pictured above), then under development. So we began to develop our own technology.
In 1998 our first generation aroma system was built, and in November 2000 a Provisional Patent was filed. This utility patent describes both Method and Apparatus. The Patent for the aromaComposer was officially granted in August 2004. The patent permits from one… to any number of scents to be actively diffused or blended within the machine. Three generations of prototypes have been built and tested extensively, which are all based upon, and built according to the strict methodology described in our patent. Each version is technologically more refined.
A second patent and numerous trade secrets protect those advances.
Advantages of this system over the current state of the art include:

Ability to switch scents "on the fly", selecting from a number of different oils.
Ability to blend thousands of scents from several sources and dynamically select different blends "on the fly".
Uses much less oil than traditional diffusers (essential oils are very expensive)
Leaves virtually no residue or lingering scents, even in small spaces.
Operates with pre-programmed music and/or voice CDs and DVDs (Relaxation, Healing, Creativity, Determination, etc.; See "Programmed Experiences")
Programmable via standard computer interface for complete control of the user experience (the therapist can also record and edit programs for later use and share blends over the Internet)
System distributes trace amounts at close range to targeted user only.
Able to respond to the needs of an individual as those needs change.
Extremely quiet operation

These characteristics create a dramatic new experience for individuals, which when applied properly can reduce stress, alter consciousness and promote well being.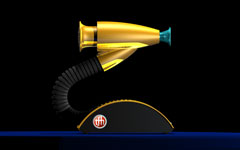 The third-generation aromaComposer… for Special Needs and Spa Applications – Had optional motion sensor switch activation, rechargeable battery operation, and a selection of nozzles for various purposes
Download now:

The new "AromaComposer" 3rd-Gen Prototypes in Progress – a PDF Publication
Integrated Scent Marketing Systems
Since developing the basic aromaComposer and its controller systems I have received various inquiries from individuals and companies, through the years, from around the world, interested in using our system for scent marketing purposes. We have proposed placing all components into a single box, mounted within a kiosk or display, for dedicated scent-marketing purposes.
A new scent-marketing prototype finally exists… based upon our Generation-3 head, bottle and pump system, fit into a solidly mounted single container. Ten plus years in the making.
c.2009 R. Douglas Nelson. All rights reserved.