AromaComposer – A Brief History
Inspiration
In the early 1960's, … my father took my brothers and myself to the Santa Monica Pier, where I experienced an expensive experimental arcade game machine called "Sensorama", now acknowledged as one of the first virtual reality systems. I experienced true multisensory… a 3-D film, stereo sound, vibration, wind and different aromas in one box. Created by Mort Heilig and patented in 1962. Spent all my change that day to run through his shows. As I remember, one was an over the sand dunes experience in a dune buggy… another included a bicycle, downhill motion, and included a wink from a pretty girl in passing. It sure beat my incense, strobe light and sync-sound light box projects of the 60's.
Themed Design
In 1984, while working on the Baltimore Power Plant project for Six Flags, I experienced the "Sensorium Theater", which I was not the designer of, but did see the processes used intimately, and the failures too, which taught me much about the benefits and deficits of such multisensory systems, especially the scent system with its chemical wax like pellets.
http://alphasensory.com/wordpress/?p=50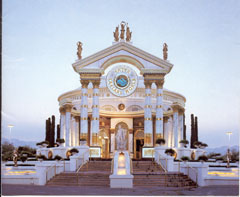 In 1985, as Project Designer, I proposed to Caesars Palace that we use scent to stimulate/excite their patrons as they entered the casino… through this ancient Rotunda… via a moving sidewalk. It was a pretty far out concept … to all involved. Got cut from budget. Capable systems at this time were primitive, lacking or unavailable. The concept of scent marketing is not new to me. alphasensory.com/Portfolio/Caesars/ProjectPage.html (see linked document ProjectScope.html)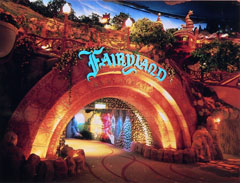 A few years later, in 1987 proposed multiple scented environments within the Fairyland Restaurant/Theater due to be created at Sanrio's Puroland. By 1989, the idea of… and use of environmental fragrancing was going full bore while I lived and worked in Japan. I advocated it on various retail-marketing projects, such as the Sanrio Gallery, and have been a big supporter of scent environmental marketing, but again technology was primitive.
Our Patents and Prototypes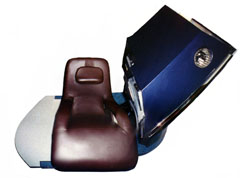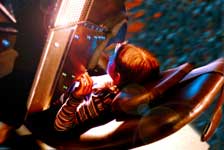 In the late 90's we were still unable to find a good multi-scent diffuser for our Multisensory Stimulation System (pictured above), then under development. So we began to develop our own technology.
In 1998 our first generation aroma system was built, and in November 2000 a Provisional Patent was filed. This utility patent describes both Method and Apparatus. The Patent for the aromaComposer was officially granted in August 2004. The patent permits from one… to any number of scents to be actively diffused or blended within the machine. Three generations of prototypes have been built and tested extensively, which are all based upon, and built according to the strict methodology described in our patent. Each version is technologically more refined.
A second patent and numerous trade secrets protect those advances.
Advantages of this system over the current state of the art include:

Ability to switch scents "on the fly", selecting from a number of different oils.
Ability to blend thousands of scents from several sources and dynamically select different blends "on the fly".
Uses much less oil than traditional diffusers (essential oils are very expensive)
Leaves virtually no residue or lingering scents, even in small spaces.
Operates with pre-programmed music and/or voice CDs and DVDs (Relaxation, Healing, Creativity, Determination, etc.; See "Programmed Experiences")
Programmable via standard computer interface for complete control of the user experience (the therapist can also record and edit programs for later use and share blends over the Internet)
System distributes trace amounts at close range to targeted user only.
Able to respond to the needs of an individual as those needs change.
Extremely quiet operation

These characteristics create a dramatic new experience for individuals, which when applied properly can reduce stress, alter consciousness and promote well being.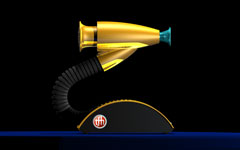 The third-generation aromaComposer… for Special Needs and Spa Applications – Had optional motion sensor switch activation, rechargeable battery operation, and a selection of nozzles for various purposes
Download now:

The new "AromaComposer" 3rd-Gen Prototypes in Progress – a PDF Publication
Integrated Scent Marketing Systems
Since developing the basic aromaComposer and its controller systems I have received various inquiries from individuals and companies, through the years, from around the world, interested in using our system for scent marketing purposes. We have proposed placing all components into a single box, mounted within a kiosk or display, for dedicated scent-marketing purposes.
A new scent-marketing prototype finally exists… based upon our Generation-3 head, bottle and pump system, fit into a solidly mounted single container. Ten plus years in the making.
c.2009 R. Douglas Nelson. All rights reserved.